About
Stan McMurtry was born in Edinburgh on 4 May 1936, but moved to Birmingham at the age of eight. His father was a commercial traveller. As a child McMurtry was always drawing - sketching figures in the margins of his school books and inventing his own strips. However, his parents were not supportive, his father telling him he'd never make the grade, and that he should concentrate on getting a proper job.
From 1950 to 1953 McMurtry attended Birmingham College of Art, and from 1954 to 1956 he did his National Service in the Royal Army Ordnance Corps. He then became a cartoon film animator at Henley-on-Thames, producing films for ITV - two of which won awards at Cannes Film Festivals. His first published cartoon appeared in Today on 7 January 1961, but he did not become a freelance cartoonist until 1965. At first he drew strips for Wham, Buster and other children's comics while also contributing joke cartoons (signed "Stan McMurtry") to publications including Punch and the London Evening News.
In 1968 Norman Mansbridge decided to retire as topical cartoonist for the Daily Sketch, and the editor, Howard French, offered McMurtry the job. He had previously submitted joke cartoons to the paper using his full name, but from January 1969 had to create a topical cartoon every day, and signed these "Mac." Luckily McMurtry enjoyed the pace and energy of daily newspaper production, and was happy with the politics of the Daily Sketch. "I attack the Labour Party sometimes", he admitted at the end of his first year, "and I would hit the Tories just as hard if they were in power and I thought they deserved it": "I did one cartoon about Wilson telling the BBC that 'Britain is right to be proud under Labour' and there was a man holding a newspaper placard telling of the Biafran tragedy. I felt sorry for Wilson as I did it, but the cartoon had to be drawn."
Wilson didn't bear a grudge. "Your cartoons make me and the wife laugh", he told McMurtry in May 1970, adding "I realise I'm unpromising material." McMurtry continued working for the Daily Sketch until it was absorbed by the Daily Mail in May 1971. Editorship of the combined paper passed to David English, who set about redesigning the Daily Mail as a tabloid, and chose McMurtry over the Daily Mail's established political cartoonist, Wally Fawkes. Fawkes left for the Observer, and McMurtry immediately started work alongside John Musgrave-Wood ("Emmwood") on the redesigned Daily Mail. Their cartoons alternated until Musgrave-Wood retired in 1975, but McMurtry later recalled that "I never saw him": "When I was in the office he was at home and when he was in the office I was at home. We hardly ever met socially. I suppose we were vying with each other to some extent but it was a very healthy sort of competition."
McMurtry was soon producing six cartoons a week, but in 1975 John Kent was invited to contribute a weekly cartoon. McMurtry confessed "I was so angry! I felt that my territory was being invaded", but he then realised that five days a week would be less stressful. David English urged McMurtry to be "more politically minded", but McMurtry saw himself as a gently mocking cartoonist, whose job "is to make the dreary news copy of the daily paper brighter by putting in a laugh." He was, however, proud of his cartoon of 8 July 1975, published during the miners' strike, which showed two miners carrying Britannia in a birdcage, with the caption "If she suddenly drops dead it means it's unwise to go any further." As he told an interviewer "I was quite pleased with that at the time although I felt sorry for the miners."
David English was closely involved with the Daily Mail cartoon. "My editor likes to edit," McMurtry admitted in 1977, "he wants to have a choice": "That's where the business of putting in roughs comes in very handy for the editor because not only must he please the readers of the Daily Mail but also the proprietors of the Daily Mail. If I put in a cartoon knocking the Royal Family, or the Tories, or the policy of the paper, they wouldn't print it." McMurtry did not feel that the editor's involvement amounted to censorship, although he acknowledged that "on extraordinary days, there might be a late call saying the lawyer thinks his cartoon could land them in the courts. Then it means back to the drawing board again." More disruptive than censorship was breaking news, and in 1979 one interviewer noted that "very occasionally he'll get a call at home when he's just settled down to have dinner": "A big news story that can't be ignored. 'I have to get in the car and drive like a lunatic to get here, frantically thinking on the way. Then we miss all the early editions, of course.'"
By 1979 McMurtry was working a four-day week "in a tiny garret in the newspaper's London office, with a drawing board and a wall full of pin-up nudes." His day started at his home in Reading, where he looked through the morning's papers, and developed ideas for cartoons on the journey to work. As an interviewer explained, "Mac's normal method of working is to prepare four or five rough ideas early in the day": "These pencil 'roughs' (they may only be a single stick figure with a caption beneath) Mac then takes to Sir David English, the Mail's chief editor. English then makes his selection which Mac then 'works up' into the finished drawing during the afternoon, normally completing the cartoon by about 5.30 pm." Then he went home.
In 1980, while courting his second wife Janet, Mac began putting her into his Daily Mail cartoons. She had long blonde hair, and Mac later recalled that "I put her among a flock of sheep once and her long hair blended perfectly with their woolly coats." She continued to appear hidden somewhere his Daily Mail cartoons, unless the subject was purely political or dealt with a tragedy, until their split in 1998. However, in 2003 Mac began to hide in his cartoons a picture of Liz Vaughan, who has short red hair, and whom he married the following year.
McMurtry has also done advertising work, book illustration and greetings cards design, and wrote comedy scripts - in collaboration with Bernard Cookson - for Dave Allen and Tommy Cooper. In 1977 he produced a children's book, The Bunjee Venture, which was made into a cartoon film by Hanna-Barbera. In 1983 and 1984 he was also voted CCGB Social and Political Cartoonist of the Year, and in 1983 and 1988 he was CCGB Cartoonist of the Year.
McMurtry's workload remained heavy, but in 1984 he had heart bypass surgery and relaxed his routine, working just one day a week in the Daily Mail office, and sending his cartoons from home by wire and post. He has continued to regard his work as essentially apolitical, observing "that someone like Ralph Steadman would see such 'gentle' work as wasting a marvellous opportunity to hammer home a political or ideological point." Yet despite his belief that his work carried no overt message, he has often attracted criticism. As one journalist noted in 1986, he received a "steady trickle of abusive phone calls and letters from offended parties": "Whenever a black or Asian character appears in a cartoon he is inevitably pilloried by the Commision for Racial Equality or some similar body. This he does find frustrating."
In 1994 McMurtry was still submitting about four roughs a day to the editor of the Daily Mail, who he noted "chooses the one he thinks will look best in the paper." On perhaps two occasions a year the editor would reject all of his roughs, in which case a new cartoon had to be created, "but most often he will pick one of the cartoons." McMurtry still did not see censorship as an issue, even when material was rejected, although he admitted that "if it is a very contentious sort of issue we'll maybe talk it over for a while, and very occasionally he'll send me off to see the lawyer, which is doomsville because a lawyer will never take a chance."
This scrutiny was not always effective. In August 2001 the Daily Mail carried a McMurtry cartoon dealing with the National Health Service's bid to recruit overseas doctors, showing a witch doctor in an NHS ward, and a nurse demanding: "Answer the doctor, Mrs Wilberforce. Have you drunk your warm cockerel's blood this morning?" A similar cartoon by Caldwell appeared in the Daily Star of the same date. The British Medical Association sent protest letters to both the Daily Mail and the Daily Star, telling Paul Dacre, editor of the Daily Mail, that "attempts at humour of this kind perpetrate a climate of intolerance that breeds racism": "Racism of this kind undermines recruitment, destroys morale, and breeds a climate of fear amongst both patients and staff." The Daily Star refused to disown its cartoon, but Dacre apologised to the BMA for McMurtry's work, saying that the paper had not intended to "give rise to racism within the wider community of health care."
McMurtry was much influenced by Ronald Searle, and confessed himself an admirer of Giles, Wally Fawkes, Bill Tidy, and Jak - whom he considered "a very clever cartoonist". His work for the Daily Mail is realistically drawn with authentic details, and shows the stylistic influence of Giles. He signs his work "Mac" with a sans-serif, lower-case script ready-made label. He roughs out ideas in pencil on transparent A2 layout paper and usually draws the finished cartoon on No. 3 Art Line board (though he sometimes uses A3 paper) in half imperial size using a Gillott 404 nib (and a brush for large black areas) and Pelikan black ink, using blue ink for tone areas. When the drawing is dry he covers it with Kodatrace, going over the tone areas in black ink as a guide for the mechanical tint. He is a member of the London Sketch Club and the Chelsea Arts Club.
In 2003 Mac was created MBE for "services to the newspaper industry." When conferring the award, the Queen remarked "Ah, so you're Mac, are you?" "I hope you're not offended by them," he replied. "No, no," said the Queen, "We always look at them. We like it when you put the corgis in."
Philip Jordan "Carry on Laughing!" Daily Sketch, 21 January 1970.
Daily Sketch, 11 May 1970, "Wilson Asks for Mac."
CSCC Archive, Rosette Glaser interview with Stan McMurtry, 22 September 1977, pp.2-3, 5, 7.
Second Sitting, No.74 (February 1979), p.2.
E.W.L. Davies "Taffy on Mac", Third Way, February 1986, pp.18-19.
CSCC Archive, John Harvey "Stiletto in the Ink: British Political Cartoons", c.1994, p.14.
Mark Bryant Dictionary of Twentieth-Century British Cartoonists and Caricaturists (Ashgate, Aldershot, 2000), pp.148-9.
Stan McMurtry on "Desert Island Discs", March 2008 - www.bbc.co.uk/radio4/factual/desertislanddiscs_20080323.shtml
Geoffrey Levy "Find Mac's Secret Lady", Daily Mail, 2 August 2008, p.22.
Holdings
Description
640 originals (MA0001 - 0640) (MA0001 - 0101 catalogued ), [MA0102-162 Renumbered as PU1010 - 1071A]
Date
60s; 70s; 80s; 90s
back to top
Video Interview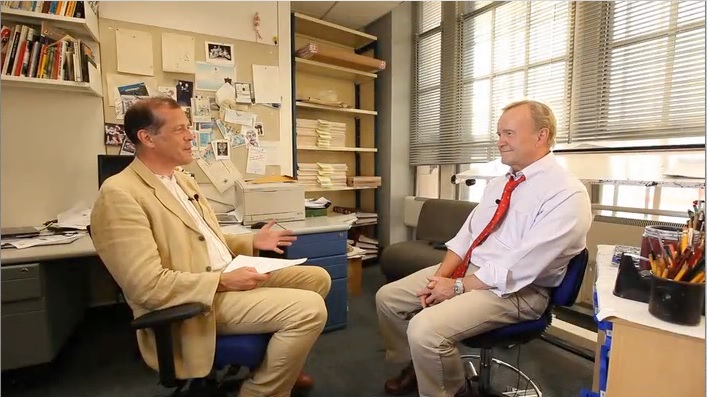 back to top