About
Nick Newman was born in Kuala Lumpur, Malaya, on 17 July 1958, the son of Tony Newman, an RAF officer. Newman went to Ardingly College, a boarding school in Sussex, where he met Ian Hislop, who was two years younger. The two worked together on school revues. Newman then got a place at Oxford University, although he recalled that "I was thrown out of Ardingly in my last term for something unbelievably silly, wiring up the chapel to play rock during a service."
At Ardingly Newman had founded Passing Wind magazine, and he continued to publish it at Oxford, where he read history from 1976 to 1979. "When I got up to Oxford", he recalled, "I realised there were very few people around who wanted to do anything silly or humorous, so we just carried on doing Passing Wind, which I'd started with a friend called Simon Park at Ardingly": "When Ian [Hislop] came up two years later, we handed it on." After leaving Oxford in 1979 Newman joined the Haymarket magazine-publishing training course, and became a business journalist on Management Today.
A self-taught artist, Newman drew cartoons at school. His first published cartoon appeared in Yachting Monthly in 1976, but in 1981 he began working regularly for Private Eye, contributing both single cartoons and strips such as "Battle for Britain", "Dan Dire" and "Snipcock and Tweed". In 1983 he left Management Today to become a full-time cartoonist, after "building up enough work and contacts to take the plunge." From 1983 to 1987 he also worked with Ian Hislop as a scriptwriter for Central TV's Spitting Image - as Hislop put it, "five years, 50 episodes, three specials and three American shows." In 1989 Newman became pocket cartoonist on the Sunday Times, and began drawing the "Megalomedia" strip for the Guardian, working with Ben Woolley.
Newman has also contributed to the Spectator, Independent Magazine, Marxism Today, Wisden Cricket Monthly, Observer, Today, Times Supplements, and Punch - a breakthrough which he later recalled as "the most satisfying thing" in his career. With Ian Hislop he also co-wrote two Murder Most Horrid BBCTV shows and contributed sketches to ITV's The Harry Enfield Show - creating "Tim Nice-But-Dim". As Newman confessed, Tim "is just us": "A lot of Tim's language comes from our experience at school. In one sketch, he says, 'Throw the snot-rag in the wagga-bagga.' 'Wagga-bagga' was a word at Ardingly for wastepaper basket. When you use schoolboy words in the outside world, they seem so silly." He has also written scripts for Clive Anderson Talks Back and Channel 5's The Jack Docherty Show as well as the 1994 radio series, Gush.
Newman works in pen, ink, felt-tip, biro and "anything else within arm's reach". The Cartoon Art Trust voted him Pocket Cartoonist of the Year 1997 and Gag Cartoonist of the Year 1998 and 2005. He also won the Sports Journalists' Association's award for Sports Cartoonist of the Year in 2005, 2007 and 2008. In 2003 Newman and Hislop wrote the children's series My Dad's the Prime Minister for the BBC, with a second season following in 2004. They also collaborated - with John Ross and Jonathan Gershfield - on writing the 2008 film A Bunch of Amateurs, starring Burt Reynolds, and in 2009 wrote the satirical series "The News at Bedtime" for BBC Radio 4.
Ian Hislop, "Just a 20-second quickie from Twivy", Campaign, 11 August 1989.
James Rampton "How We Met; Ian Hislop and Nick Newman", Independent on Sunday, 20 November 1994, p.88.
Mark Bryant Dictionary of Twentieth-Century British Cartoonists and Caricaturists (Ashgate, Aldershot, 2000), pp.163-4.
Michael Heath "How to Draw Fiends and Influence People", The Independent, 13 December 2004, pp.20-1.
back to top
Video Interview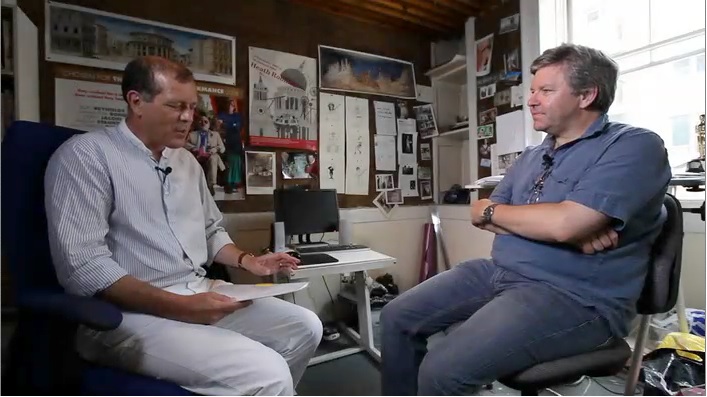 back to top