About
Peter Brookes was born in Liverpool on 28 September 1943, the son of RAF Squadron leader G. H. Brookes. He was educated at Heversham Grammar School, Westmoreland, and in 1962 joined the RAF to train as a pilot, while reading for a London University BA at the RAF College, Cranwell. However, Brookes found he didn't fit into the RAF, and later admitted he was "terribly glad to be thrown out."
However, the RAF did give him some experience of drawing cartoons and designing stage sets, and in 1965 Brookes took a year's foundation course at the Manchester College of Art. In 1966 he went to the Central School of Art in London, where he was a contemporary of Posy Simmonds. Brookes found his three years at the Central School "wonderful, a liberation after the RAF". He produced illustrations and cartoons for magazines such as New Society, which used his first published cartoon as a cover in 1968. On leaving the Central School in 1969 Brookes had an apprenticeship with a graphic designer, which turned into a studio-share as his freelance work took over.
Brookes took on a range of work, including covers for the Radio Times. In 1976, when Nicholas Garland left the New Statesman, he was invited to take over his weekly political cartoon, but Brookes found it did not suit him and gave it up after about six weeks. In 1976 he returned to the Central School as an illustration tutor, moving in 1979 to the Royal College. In 1982 Brookes drew some cartoons for The Times, and when Ranan Lurie left the paper, Harold Evans invited him to try political cartooning and illustration. He stayed at the paper from 1983 until 1985, but once again "felt uncomfortable" with the work and left. In 1986 Brookes became cover artist - with Nicholas Garland - for the Spectator.
Brookes became a full-time political cartoonist only in 1992, when Peter Stothard became editor of The Times. He was invited to draw the leader-page cartoon, but was careful to discuss with Stothard the limits of acceptability, in order to reduce the friction. "I'm more left than he is", Brookes observed, "but on the other hand it's not that far apart from The Times way of looking at things": "I gently remind him we are going to differ on things, and generally he accepts that particular fact." He produced his finished cartoons for The Times in "a tiny triangular office...tucked away at the end of an editorial floor."
Brookes is best known for his weekly "Nature Notes" which began in The Times in February 1996. The feature ran on a Saturday, and for the first time offered Brookes a regular colour slot. He admitted later that his initial reaction to drawing in colour was "total horror", but "Nature Notes" proved very popular, and permitted him a more sideways glance at politics. Drawing politicians as animals allowed him to reveal their basic appetites - "you are able to depict crap and fornication and that sort of thing." Yet Brookes still admitted that, after the first collection was published in 1997, "I was ready to give up, exhausted, but then a new government arrived and I got a second wind."
Brookes says he has "always voted Labour", but when Tony Blair won the General Election of May 1997 he shared the scepticism of most British political cartoonists. "I used to draw Blair with eyebrows up, looking eager", he explained soon afterwards: "Now he has one eyebrow down, showing his authoritarian tendency. There is a menace there that was not there until the last year. His eye is not mad, just extremely authoritarian. Thatcher was mad, but Blair hasn't achieved that, yet, although megalomania isn't that far off." After Blair's departure ten years later Brookes found his successors less engaging, lamenting that "none has been as interesting to draw as the increasingly crazed and manic Blair".
The Cartoon Art Trust named Brookes as Political Cartoonist of the Year in 1996, 1998, 2006, and in 2002 he was Cartoonist of the Year in the British Press Awards. In 2005 he was named Cartoonist of the Year in the "What the Papers Say" annual awards. Brookes had stopped working for the Spectator in 1998, but was still drawing four editorial cartoons a week for The Times, plus Saturday's "Nature Notes." As he explained, he saw political cartooning as an attacking medium, and "I rue the day when I'll ever get round to doing something nice about someone." He agrees with David Low that British political cartoonists form "the permanent Opposition": "Doesn't matter what government is in, you are attacking something that you think is wrong, or you disagree with, or is absurd...There is no such thing as a positive cartoon."
Brookes works in The Times office, attends editorial conferences, and discusses ideas with the editor. He claims to have been "very fortunate with the editors I've had...I've had no problem whatsoever", but, whatever their opinions, he resolutely follows his own line. Both Robert Thomson, Stothard's successor as editor of The Times, and the News International executives disagreed with Brookes' attitude to the war in Iraq, but they knew better than to interfere. "I work for (a) myself and (b) readers," Brookes explained, adding later that "it's the readers who you are having a conversation with and you hope might take notice."
Brookes is also very careful to remain aloof from the world of party politics. "I wouldn't ever want to be friendly with a politician," he observes, "because that would compromise you totally": "I actively avoid seeing them, because what do you say?" This independence is part of his appeal. As fellow political commentator Matthew Parris observed in 2009, journalists on The Times "almost without exception, adore Peter Brookes": "Peter can hardly enter the lift at Times House without a colleague rounding on him and demanding in a ho-ho voice: 'And who have you got in your sights for tomorrow, Peter?'"
On the eve of the 2010 General Election those sights were set firmly on the Conservative leader, David Cameron. "He has that wonderful Tory face that I'm sure he polishes each morning after brushing his teeth", Brookes observed in The Times: "Cameron glows privilege...The nose is patrician, almost Roman, and the mouth small. His hair, if not an Eton crop, is certainly very public school - it's got bounce, and you can almost smell the Molton Brown [expensive hair products]. There is a definite quiff, and the parting has been known to change from right to left and back again. Perhaps it is a political weather-vane, but I suspect it is just to confuse cartoonists."
Brookes draws his cartoons using a dip pen with Gillott 404, 303 or 1950 nibs and Pelikan black ink on T. H. Saunders paper but also likes to work with watercolour and gouache. "There are three stages to the way I draw cartoons", Brookes explained in 2010: "First they are rendered loosely in soft pencil, then I overlay that with pen and Indian ink, and finally I add tone and colour with watercolour."
A particular fan of Pont and Illingworth, Brookes has also contributed to Time magazine, Radio Times (including covers), New Society, New Statesman (covers), L'Expansion, Marie Claire, Cosmopolitan, Listener (covers), The Week (covers), Sunday Times and Times Literary Supplement (caricatures), produced illustrations for The Folio Society and Glyndebourne Opera, and designed book jackets for Macmillan, Penguin Books and others. In addition he has produced advertisements for JWT, Pentagram, The Partners and O & M. In 1995, 1999, and 2003 he designed stamps for the Royal Mail.
CSCC Archive, John Harvey "Stiletto in the Ink: British Political Cartoons", c.1994, p.13.
Jack O'Sullivan "Can you recognise this man?", Independent, 12 May 1997, p.6.
Michael Gove "His pen dipped delicately in acid wit", The Times Weekend, 27 September 1997, pp.1,2.
Frank Whitford "Ruffled Feathers All Round", The Times Weekend, 16 October 1999, pp.1, 3.
Mark Bryant Dictionary of Twentieth-Century British Cartoonists and Caricaturists (Ashgate, Aldershot, 2000), p.38.
Peter Brookes interviewed by Olivia O'Leary for "Between Ourselves", BBC Radio 4, 15 May 2001.
Peter Brookes speaking at "Cartooning the USA: America Through the Pen of Political Cartoonists", British Library, London, 18 October 2005.
Dan Sabbagh "Newspaper of the Year", The Times, 17 December 2005, p.2.
Damian Whitworth "The fine art of the lampoonist", The Times, 10 October 2009, Saturday Review p.5.
Matthew Parris "His target is 'the vanity of the whole damn lot'", The Times, 13 October 2009, p.25.
Peter Brookes "Fat Lips? Ruddy cheek?...it's the ridiculous face of British politics", The Times, 5 April 2010, p.7.
Peter Brookes "Peter Brookes's Gordon Brown cartoons: a good draw to the last", The Times, 6 May 2010.
Peter Brookes at Alliance Graphique Internationale - www.a-g-i.org/1800/members/brookes.html
back to top
Video Interview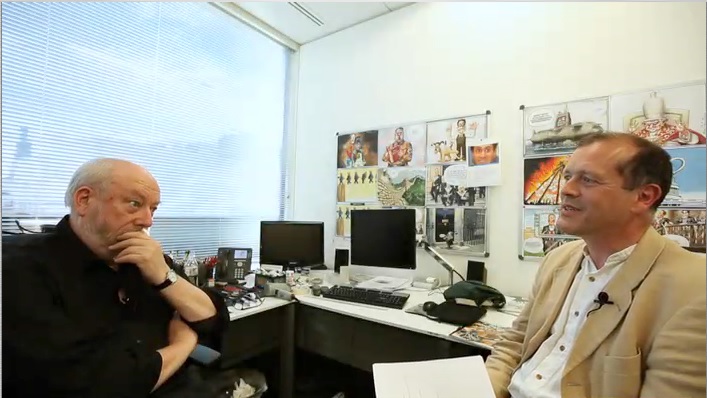 back to top